September 17th 2020 | COVID-19-UPDATE
European Parliament
European Parliament Resolution of 17 September 2020 on the cultural recovery of Europe.
EP is pushing for sizable EU funding to prop up hard-hit European culture: Article published by Europost
Sehr geehrte Damen und Herren, 
liebe Partner*innen und Mitstreiter*innen,

wir müssen Ihnen leider mitteilen, dass wir unsere heutige hybride Konferenz LEARNING FROM EUROPE – GOOD PRACTICE MODEL: DENMARK?, die ab 10 Uhr im Metro Kinokulturhaus stattfinden sollte, absagen müssen.

Das Technikteam, das die Veranstaltung betreut hätte, muss wegen COVID19-Verdachtsfällen in Quarantäne. Deshalb können wir leider den analogen Teil vor Ort nicht stattfinden lassen.

Wir haben uns daher entschlossen, die Konferenz zu vertagen und hoffen sehr, dass wir schon bald den neuen Termin verkündigen können.

Es sind für uns alle schwierige Zeiten – lasst uns weiterhin zusammenhalten!
 
Wir hoffen auf Ihr Verständnis,

mit freundlichen Grüßen

Das EU XXL FILM / Interface Film Team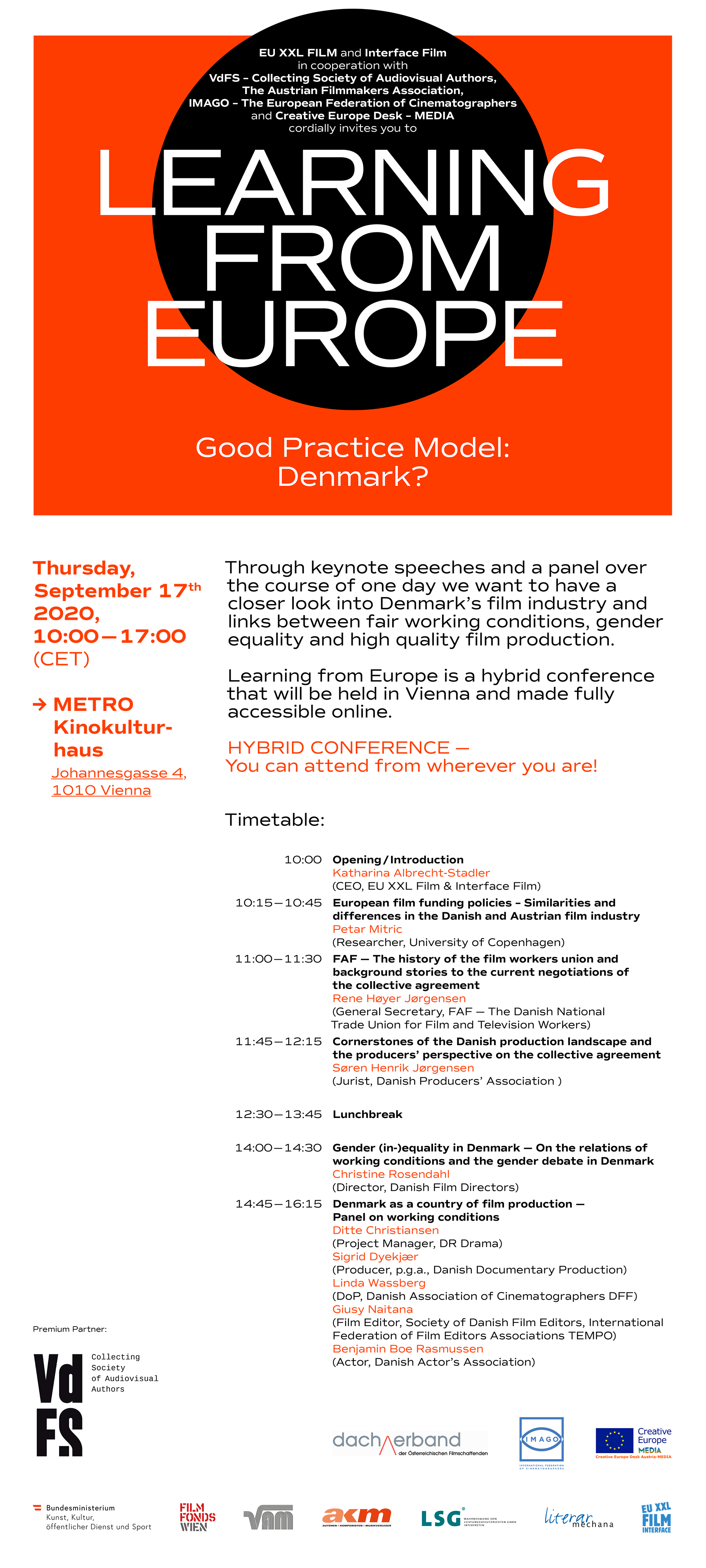 ---
June 26th 2020 | COVID-19-UPDATE
Austria
Austrian Emergency Programme to compensate film and TV productions that have been delayed or shut down because of the ongoing coronavirus outbreak.
Article by Cineuropa/Davide Abbatescianni
---
June 23rd 2020 | COVID-19-UPDATE
Marché du Film – Festival de Cannes online
 Film/Panel – The Audiovisual Sector in time of COVID-19
Article by Cineuropa/Vladan Petković
With contributions from (amongst others)
Richard Burnley, Director of Legal and Policy EBU (European Broadcasting Union)
Maja Capello, Head of Department for Legal Information EAO (European Audiovisual Observatory)
Silvia Cibien, General Delegate EUROVOD (European Video on Demand Platforms)
Luís Chaby Vaz, President EFAD (European Film Agency Directors)
Cécile Despringre, Executive Director SAA (Society of Audiovisual Authors)
Gilles Fontaine, Head of Department for Market Information EAO (European Audiovisual Observatory)
Mariya Gabriel, European Commissioner for Innovation, Research, Culture, Education and Youth
Benoît Ginisty, Chief Representative FIAPF (International Federation of Film Producers' Associations)
Laura Houlgatte, CEO UNIC (International Union of Cinemas)
Elena Lai, Secretary General CEPI (European Audiovisual Production Association)
Alexandra Lebret, Managing Director EPC (European Producers' Club)
Grégoire Polad, Director General ACT (Association of Commercial Television in Europe)
Alina Popescu, Secretary General FIAD (International Federation of Film Distributors' Associations)
---
June 4th 2020 | COVID-19-UPDATE
Netherlands 
The Dutch government steps in to rescue the local film sector – Article by Cineuropa/Davide Abbatescianni
---
May 27th 2020 | COVID-19-UPDATE
European Parliament, Culture Committee
European Commission
Revised proposal by the European Commission for the 2021-2027 budget for Creative Europe / recovery plan for Europe: Reaction by CULT Committee Chair Sabine Verheyen
Negotions on the multiannual financial framework for 2021-2027: Overview
---
May 15th 2020 | COVID-19-UPDATE
FERA – Federation of European Film Directors 
Statement – Developing Health and Safety Guidelines on Set
Article by Cineuropa
---
May 14th 2020 | COVID-19-UPDATE
CEE – Central and Eastern Europe 
Thumbs up for the fantastic work by the CEE film newswire Film New Europe
Bulgaria Releases More Funds for Culture and Reopens Cinemas
Czechs to Reopen Cinemas as Covid-19 Declines
Estonia Announces Support for Film Industry
Latvian Distributors Respond to Pandemic With Alternative Business Models
Lithuania Supports Hard Hit Cultural Sector with Over 68 m EUR
Lithuanian Film and TV Industry Adapt to COVID-19 Crisis
Poland Allows Restart of Filming and Outdoor Cinemas
Polish Govt. Proposes Levy on Streaming Giants To Support Local Film Industry
Polish Film Institute Issues First Batch of Support for Filmmakers
Romanian Filmmakers Propose Measures To Prevent Collapse of Film Industry
SAPA Offers Financial Support for Slovak Filmmakers During Crisis
Slovak Association of Independent Producers Details Covid-19 Losses
Slovakian institutions work on measures to protect the domestic film industry
Slovak Film Industry Finds New Paths to Combat COVID-19
Slovenian TV Series Bridges Between Us Resumes Shooting
---
May 12th 2020 | COVID-19-UPDATE
European Parliament, Culture Committee
Culture Committee chair Verheyen calls for doubling money for Creative Europe
---
May 7th 2020 | COVID-19-UPDATE
European Parliament, Culture Committee
Newsletter May 2020 
---
May 5th 2020 | COVID-19-UPDATE
The Cultural and Creative Sectors of Europe
Call for ambitious EU budgetary measures to get through the COVID-19 crisis
---
May 4th 2020 | COVID-19-UPDATE
European Parliament, Culture Committee 
Please watch the latest CULT meeting here
It features a highly anticipated debate with the EU Commissioners Thierry Breton (Internal Market, Audiovisual) and Mariya Gabriel (Culture)
---
May 1st 2020 | COVID-19-UPDATE
Norway
Variety Article: Movie Theaters in Norway to Reopen May 7 With 50 People Cap Per Screen
---
April 20th 2020 | COVID-19-UPDATE
FIAD – International Federation of Film Distributors' Associations
Europa Distribution – European Network of Independent Film Publishers and Distributors
Joint Statement on Covid-19 Impact on Film Distribution.
---
April 15th 2020 | COVID-19-UPDATE
UNIC – International Union of Cinemas
The impact of the coronavirus outbreak on the European cinema industry. Detailed Information!
EU Cinema Policy News presented by FNE (Film New Europe) and International Union of Cinemas (UNIC)
---
April 14th 2020 | COVID-19-UPDATE
CEE – Central and Eastern Europe
Bulgaria Announces Financial Support for Culture
FNE Interviews Croatian Audiovisual Centre CEO Chris Marcich: Our entire industry is at risk, but it can recover
Estonia Proposes Additional Crisis Funding for Culture and Sports
Lithuania Proposes Additional Crisis Funding for Culture
Montenegro Enacts Emergency Measures to Help Film Industry and Culture Professionals
Montenegrin Film and TV Industry Adapts to COVID-19 Crisis
Director of Polish Film Institute Appeals to the Management of Television Stations
Poland Gives 870 m EUR to Support Culture During COVID-19 Crisis
Polish Filmmakers Association Helps Filmmakers During COVID-19 Crisis
ADFR Launches Micro-Grants for Romanian Independent Artists
Serbian Survey Shows 10 Million EUR in Losses to Film Industry
Slovenian Film Centre Calls for More Support for Audiovisual Sector
---
April 9th 2020 | COVID-19-UPDATE
European Audiovisual Observatory
COVID-19-Measures Data Tracker – stand-alone information aggregator on national measures aimed at supporting the European audiovisual sector
---
April 8th 2020 | COVID-19-UPDATE
Council of the European Union
Ministers of Culture and Media discussed measures aimed at assisting the cultural and creative sector: Please find it here.
---
April 7th 2020 | COVID-19-UPDATE
Joint Film and Audiovisual Sector COVID-19 Statement
The film and audiovisual sector in Europe calls for urgent action by EU and Member State decision-makers.
---
April 7th 2020 | COVID-19-UPDATE
Austrian Commission for UNESCO – Austrian Working Group on Cultural Diversity
Information on the current Situation in Austria – support funds to  minimise the adverse effects of the COVID-19 containment measures.
April 6th 2020 | COVID-19-UPDATE
European Producers' Club: 10 Measures
The spreading lockdown has resulted in closing of cinemas and shootings cancelled or interrupted across all of Europe.
This lockdown results in immediate cancellation of hundreds of productions in shootings phases, disruption in cashflow and the to-be-expected bankruptcies of production companies.
As a domino effect, it will impact the industry as a whole: all creators-freelancers with no job tomorrow nor any social security: technical suppliers, advertisement agencies, publicity agents, theatres, altogether millions of employees.
In order to prevent this situation, the European Produces Club proposes 10 measures to apply immediately: https://www.europeanproducersclub.org
---
April 6th 2020 | COVID-19-UPDATE
Measures taken by EFAD members to mitigate the consequences of the COVID-19 outbreak
The Coronavirus (COVID-19) outbreak strongly impacts the audio-visual industry. National Film and Audio-visual Funds across Europe are already fully mobilised to take all necessary measures to mitigate the negative consequences for everybody working in the sector.
They are busy reorganising their internal functioning and procedures in order to continue to operate and award support, adjusting existing schemes to introduce more flexibility or creating specific ones to address the difficulties the audio-visual industry already faces.
The linked summary will be regularly updated and completed: https://europeanfilmagencies.eu/news-publications/our-press-releases/241-measures-by-efad-members-to-mitigate-the-consequences-of-the-covid-19-outbreak
---
April 2nd 2020 | COVID-19-UPDATE
IMAGO Covid-19: Cinematographers World Report
During the current epidemic, IMAGO's member societies stand in solidarity and are doing everything they can to help and support cinematographers around the world whose livelihoods are being affected.
Read IMAGOs COVID-19: World Cinematographers Report, which provides the latest updates from all its member societies from around the globe here.
---
March 30th 2020 | COVID-19-UPDATE
Petition
Open Letter to the EU Commission and the Member States, demanding support for the Cultural and Creative Sectors, particularly cultural creators, affected by the COVID-19 crisis.
---
March 30th 2020 | COVID-19-UPDATE
International Federation of Coalitions for Cultural Diversity (IFCCD)
Message from the IFCCD President
---
March 30th 2020 | COVID-19-UPDATE
Authors Organisations Joint Statement on COVID-19 Crisis
As the COVID-19 pandemic ravages our societies, including the cultural and creative sectors, authors organisations stand in solidarity with all those affected by the virus and we support measures taken to contain it.
Read full Statement of ESCA, EWC, FERA, FSE and IMAGO here.
---
Bring culture back, Ms. President!
Following the announcement of the Commissioner-Designates and their portfolios by President Ursula von der Leyen last Tuesday, Culture Action launched a public campaign urging Ms. President to bring culture back!
Support the campaign and sign here now https://bit.ly/2lRP7Vq
---
Round Table "Copyright Policy in Music and Film" – Expert Talks
On May 21, 2019, upon invitation by EU XXL Film, representatives of the ADA – Austrian Directors' Association, AKM & austro mechana, the Austrian Filmmakers' Association, GEMA, MICA – MUSIC Information Center AUSTRIA, the VdFS – Collecting Society of Audiovisual Authors, and the Austrian Federal Economic Chamber – Austrian Association for the Audiovisual & Film Industry discussed the new EU copyright directive. In June 2019 it entered into force and should be implemented by the member states of the European Union by June 2021. The new developments of prime importance for the film sector are the use of protected content by online content-sharing service providers (Art. 17), appropriate and proportionate remuneration (Art. 18), the transparency obligation (Art. 19), and the contract adjustment mechanism (Art. 20).
---
Filmmakers and the ORF – Austrian Broadcasting Corporation 2019-04-08
A two-day symposium on social justice and fair pay for artists and cultural workers held by representatives of the Off Scene took place between the 8thand 9thApril, 2019 at the Gartenbaukino in Vienna. As part of the symposium which was opened with an evaluation of the situation and outlooks to necessary changes, Fabian Eder, the chairman of the Austrian Filmmakers Association, took a critical look at the relationship between filmmakers and the ORF, to which he added a list of demands for future dealings with one another.
---
Bye Bye Creative and Diverse Europe? 2019-01-04
Evelyn Regner MEP and Interface Film invited MEPs and others interested to the the European Parliament in Brussels in order to present their work and proposals, resulting from various workshops and networking meetings, als well as their resolution.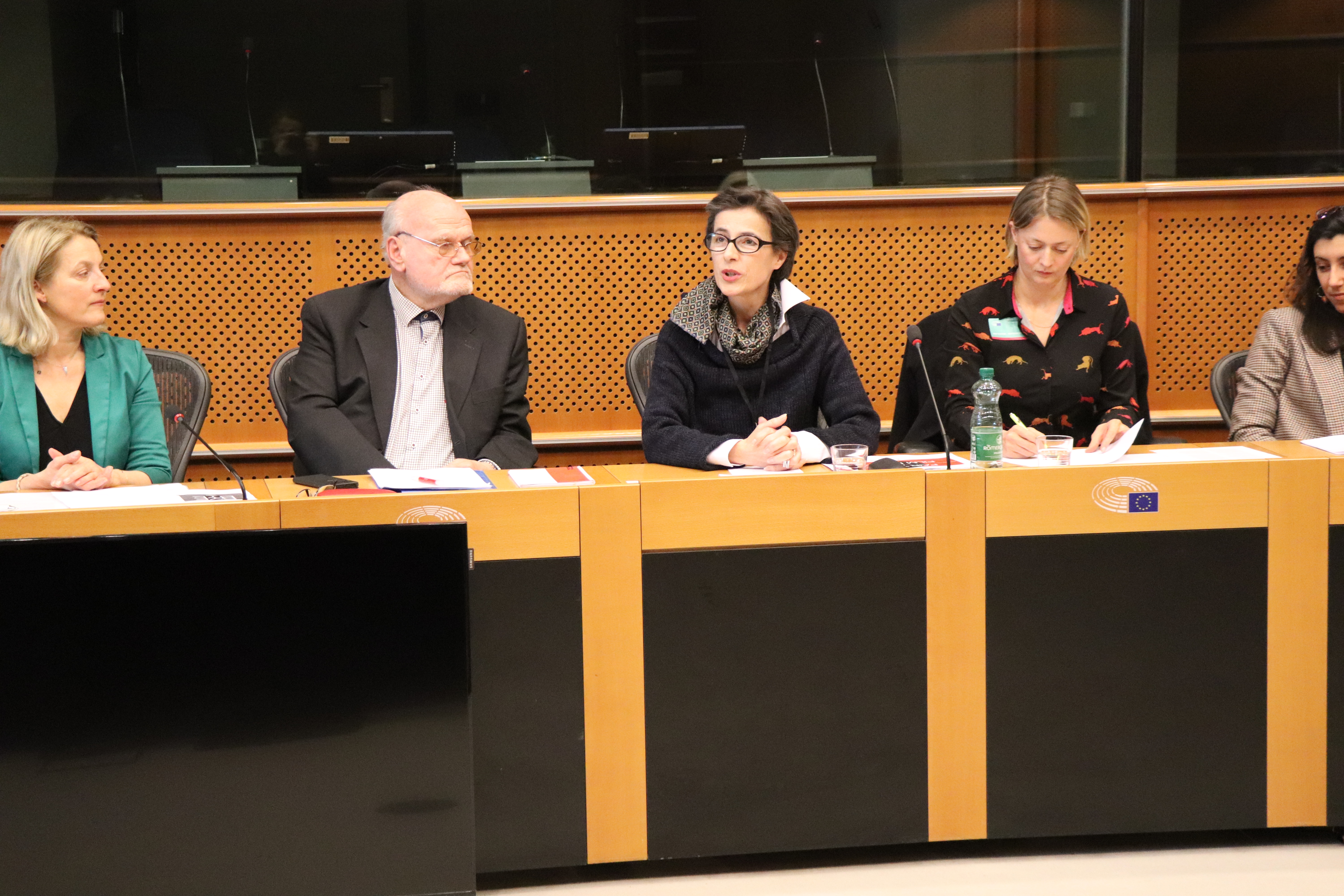 ---
Fair Trade for Film Making – Film policy at European level 2019-03-21 
European Film Breakfast @Diagonale'19, Festival of Austrian Film

Organized by Interface Film – an initiative of EU XXL Film. With the kind support of Creative Europe Desk Austria – MEDIA.

During the European Film Breakfast as part of Diagonale'19 Zora Bachmann and Kurt Brazda presented the initiative Interface Film, founded by EU XXL Film in November 2018, which focuses on working conditions, insurance and contract structures, gender equality, minimum pay and distribution opportunities. In a joint conversation with Daniela Padalewski-Gerber (aea) and Gernot Schödl (VdFS) cultural and film-political topics were collected and discussed. In addition, 30-40 representatives of the industry took the invitation as an opportunity for an inspiring exchange.